FLU VACCINES 2022/2023 ARE NOW AVAILABLE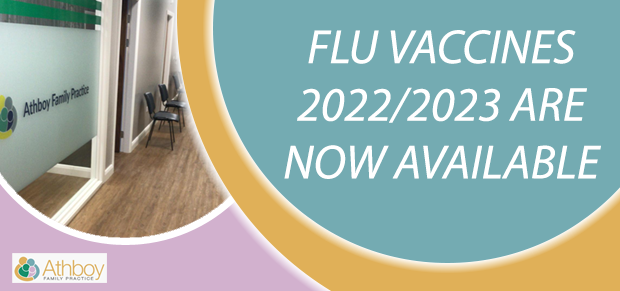 Booking is available on-line and by telephone through our Reception Office.
Please use the on-line booking system where possible to free up the phone lines for other patient issues.
Please use the link below for Online Booking with Swiftqueue:
https://www.swiftqueue.com/timescreen.php?id=$2y$10$Trhe57A76qZjuY1qvZY71uE4.18tJEM3ox3eJJ5UjnT1O8JG5mUq6&rid=3655
A Flu Vaccine is available free of charge for certain people, this includes:
Anyone aged 65 years and older
Anyone aged 2 to 17 years
Healthcare Workers
Pregnant Women
Anyone living in a Nursing Home or other Long-Term Care Facility
Anyone in regular contact with Pigs, Poultry or Waterfowl
People living with certain conditions can also get a free flu vaccine – please follow the link below for further information on who is eligible for a free flu vaccine.:
https://www2.hse.ie/conditions/flu/getting-the-vaccine/
For more information regarding the flu vaccine 2022/2023 please see the HSE website or follow the link below.