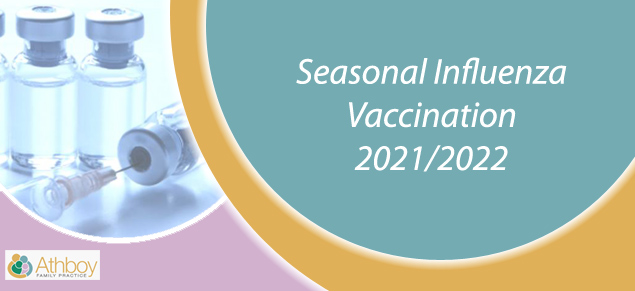 The flu vaccine for children and young adults
(2 – 17 year olds) will be available from Thursday 21st October.
It is very important that at risk patients ensure they receive the vaccination before any potential outbreak of seasonal flu. If you are 65 or over or have a long term medical condition you should also ask your doctor about the pneumococcal vaccine which protects against pneumonia.
Again this year due to Covid-19 the Flu Vaccine will be available by appointment only.
Athboy Family Practice will be running designated Flu Clinics.
Booking will be available on-line and by telephone through our Reception Office. Please use the on-line booking system were possible to free up the phone lines for other patient issues.
You can register an account to use the online booking system by going to www.swiftqueue.com
We have produced a short registration guide here: How to Register for your Flu Vaccination
Please note that the surgery will being using the Swiftqueue online booking for other services in the future, so registering for an account now will enable you to use this service in the future.
Seasonal Flu Vaccine Information 
There has been a steady increase in the number of cases of flu in recent years.
Flu is a very infectious and potentially serious illness and a new flu vaccine must be given each year. 
Flu can cause severe illness and can even be life threatening for older people, those who have a long term illness and pregnant women. 
Flu is a highly infectious acute respiratory illness caused by the influenza virus. Influenza affects people of all ages. Outbreaks of flu occur almost every year, usually in winter. This is why it is also known as seasonal flu.
Flu can be prevented by vaccination. Flu vaccination is a safe, effective way to help prevent flu infection, avoid hospitalisation and reduce flu-related deaths and illnesses.
Get the vaccine, not the flu!
The HSE is urging people in at-risk groups to get vaccinated against influenza.
Vaccination is strongly recommended for:
persons aged 65 and older
those with long term medical conditions such as diabetes and chronic heart, kidney, lung or neurological disease
people whose immune system is impaired due to disease or treatment including all cancer patients
persons with a Body Mass Index (BMI) over 40
pregnant women (at any stage in pregnancy)
residents of nursing homes and other long stay institutions
people with regular close contact with poultry, water fowl or pigs
health care workers
carers
For more information: https://www.hse.ie/eng/health/immunisation/pubinfo/flu-vaccination/about-the-vaccine/
Pneumococcal Vaccine
The vaccine and consultation are free for those with a Medical Card or GP Visit Card. The seasonal flu campaign for 2021/2022 will continue until the end of April 2022.
Those without a Medical Card or GP Visit Card will be charged a consultation fee of €35.00 for the Pneumoccocal vaccine.
If you are 65 or over or have a long term medical condition you should also ask your doctor about the pneumococcal vaccine.
Source: www.hse.ie
For more information: https://www.hse.ie/eng/health/immunisation/pubinfo/adult/pneumo/
https://www.hse.ie/eng/health/immunisation/pubinfo/flu-vaccination/about-the-vaccine/
https://www.hse.ie/eng/health/immunisation/pubinfo/flu-vaccination/flu-vaccine-for-children/